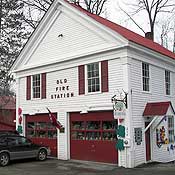 2021 Outdoor Concerts. The GCB will have three fair weather concerts this summer season. We have enough eager, vaccinated players who feel ready to return to an outdoor, vaccinated, distanced playing arrangement.
The Library lawn concerts will be:
July 11, 5:00 (rehearsal 1 hour beforehand)
August 22, 5:00 (with rehearsal)
October 3, 2:00 (no rehearsal)
In addition, we'll have a small presence of vaccinated players on May 30 at the Brick Church just before the bells are rung in commemoration at 2:00.
The band will perform at the Town Picnic for Grafton residents on July 31 and we'll play sometime for the good folks at Valley Cares Senior Living in Townshend.
Inclement weather cancellations will be announced on this webpage with at least 4 hours notice.
We will skip parades this year and plan to compensate by playing louder next year.
The Grafton Cornet Band is delighted that Glen D'Eon returns as our director.
The Grafton Cornet Band welcomes all to our (somewhat reduced) series of free summer concerts. We play all sorts of traditional band music as we have for 154 years. Our concerts are informal, so bring chairs or a blanket and maybe a picnic. On rainy days, we play in the beautiful Community Church in Grafton. Concerts in 2021 will be fair weather only. More information…