Fall Foliage Concert, Saturday 2:30. October 3rd is our annual Foliage Concert. We will be in the acoustically-welcoming White Church because of chilliness and also lawn work at the Library.

See the Grafton Town webpage for some ideas of the many activities in Grafton. If you're a band player, consider sitting in with the band and sightreading along.
New! Visit us on Facebook. (You don't need to sign up for Facebook to see our page.)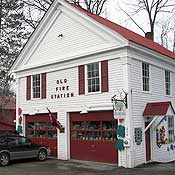 Pre-season rehearsals are open to all--and a good way to blow out the cobwebs in your old high school instrument. Students are always welcome, too. Rehearsals are upstairs at the Old Fire House (map), always on a Sunday, 2:00-4:00 with a refreshment break (see "Upcoming" at right). Directors are Sue Lemei and Bruce Corwin.

The Grafton Cornet Band welcomes all to our series of free summer concerts and parades (see the 2016 schedule). We play all sorts of traditional band music as we have for 148 years. Our concerts are informal, so bring chairs or a blanket and maybe a picnic. On rainy days, we play in the beautiful White Church in Grafton. More information…